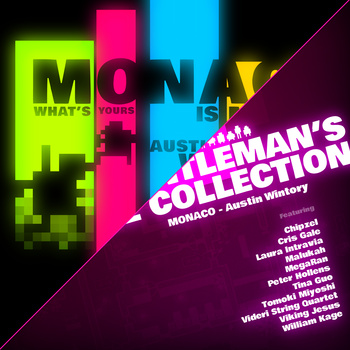 Although the video game soundtrack series was meant to be a regular feature, roughly once a week, here's a bonus treat: the music to the delicious "Monaco: What's Yours is Mine".

The opening titular track, "What's Yours Is Mine" immediately brings to mind the more madcap parts of the 2000 gem "No One Lives Forever", selling me immediately on it. The rest of the album could have been discordant drivel and I wouldn't care, the opening track made me so happy. But thankfully, the album continues in the same vein, a pacey joyride of gleeful improvisation.
I've yet to actually play the game itself, but Austin Wintory's score conjures the feeling of barely controlled mayhem, an operation teetering on the edge of chaos, and who doesn't want some of that?
[Bonus: the Bandcamp link includes the "Gentleman's Private Collection", worth it for the title alone. And ooh… right near the end I've just listened to track 32, "Discothéque Rouge, After Hours" by Chipzel. Utter chiptune perfection. So much nostalgia in one place.]
---